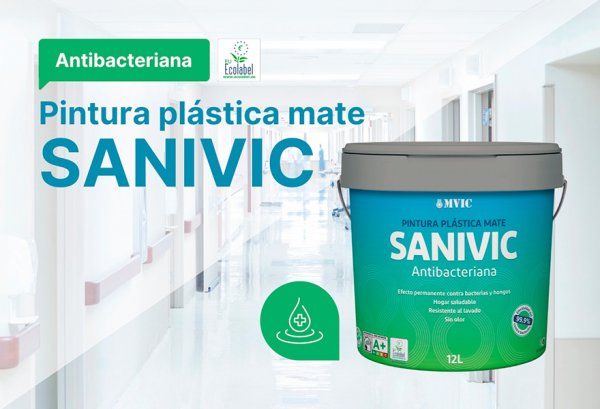 SANIVIC, PROTECTS THE WALLS FROM BACTERIA AND FUNGI!
SANIVIC is a matt plastic paint formulated with silver ions and special copolymers. It protects the walls against the growth of bacteria and fungi, and remains even after several washes, so it maintains its protective character for a long time. Certified antibacterial activity (JIS Z 2801 equivalent to ISO 22196) class R2 which means an elimination of bacteria and fungi greater than 99.9%.
It is characterized by its good coverage, good extensibility and leveling. Opacity class 2 (UNE EN 13300). SANIVIC is a paint that is very easy to apply, without splashing and with an excellent finished appearance. It has a very good resistance to rubbing or washability, classification according to UNE EN 13300: CLASS 2. Breathable to water vapor and free of formaldehyde and biocides with MIT. Practically free of volatile substances. Without smell. Certified with the European Ecological Label (registration number ES-CAT/044/002).
Due to its sanitizing characteristics as well as its low emissions, absence of odor and free of toxic substances, it is recommended in: hospitals, schools, public offices, supermarkets, food processing plants, kitchens, gyms, locker rooms, hotels, nurseries, community centers. the elderly and, in general, any location that requires high durability and resistance to bacteria and mold. Being free of odor and emissions, it is suitable for walls and ceilings in domestic homes, and in any room where immediate occupation is required.
Download
Cleanvic, stain resistant!
CLEANVIC is a matt plastic paint, based on special copolymers, which has very good hydrophobic properties and resistance to stain penetration. Due to its hydrophobic characteristics, it acts by repelling stains from the first contact, thus preventing their penetration into the wall, unlike conventional paints. Effectively repels stains from coffee, juices, soft drinks, iodine, ketchup, mustard, children's markers, etc. Facilitating its cleaning by means of a simple sponge with water and neutral soap.
It also has an extraordinary resistance to rubbing (classification according to UNE EN 13300: CLASS 1), which allows washing with a sponge or cloth, without noticeable marks or scuffs once the washed area is dry. These characteristics make it ideal in kitchens, school canteens, restaurants, cafeterias and home walls to keep the walls always clean.
Its resistance to rubbing makes it very suitable in transit areas, since it resists scratches very well, which is why it is highly recommended in lobbies, stairs, corridors and passageways in general, where you want to avoid undesirable marks or sparkles of friction
Very easy to apply, without splashes, suitable for both the professional and the home DIYer. It contains anti-mould protection of the dry film so it also protects the wall from the appearance of damp.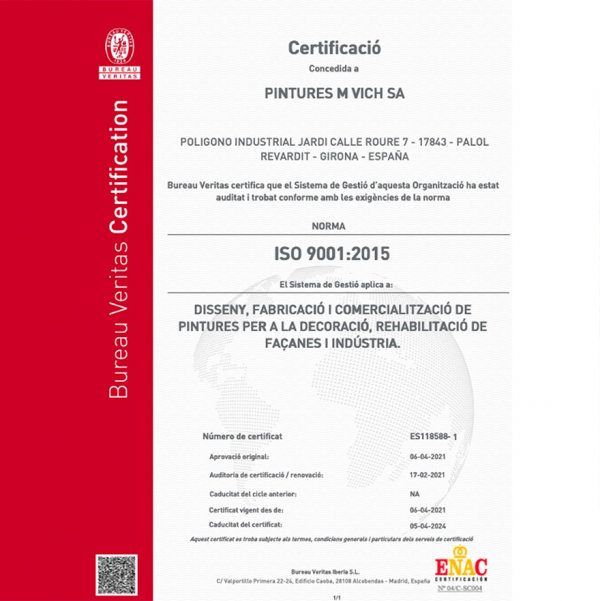 ISO 9001:2015 CERTIFICATION
The Bureau Veritas Certification company has certified that the Management System of the company Pinturas M. Vich S.A. has been audited and found to comply with the requirements of ISO 9001:2015.
The Management System is applied to DESIGN, MANUFACTURING AND COMMERCIALIZATION OF PAINTS FOR DECORATION, FAÇADE REHABILITATION AND INDUSTRY.
Certificate number SE 118588-1
Download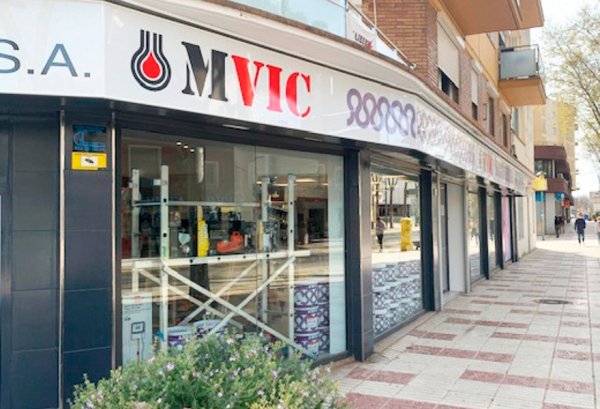 New MVIC store in Platja d'Aro!
You will find ecological, decorative paints, for the rehabilitation of facades, waterproofing, wood treatments... as well as all kinds of tools and accessories.
You can choose the color that you like the most within a wide range and they can do it instantly. You will also have professional advice at all times.
You will find a whole world of color at your disposal at the following address: Avda. Castell d'Aro, 7 – Platja d'Aro (17250).

New MVIC color chart Color trends selection
Instant colors in MVIC stores where you can check which products are available.